ACCESS & TRAVEL
The city of Caen lies some 230 km west of Paris which is served daily by most major airlines (Charles de Gaulle - CDG - and Orly - ORY - airports). Caen is easily reached from Paris by train (from "Gare Saint-Lazare" Paris train station), bus (4 to 5 daily direct from CDG airport to Caen) and private shuttle and car (~3 hour drive). Caen is served 3 times daily by air from Lyon (St Exupery Airport) which has connections to many European cities and some long haul destinations. Travel from the UK is also possible using the ferry service from Portsmouth (3 services daily, with a sailing time of some 6 hours) as well as direct air links (typically 4 times per week) from London (Southend Airport).
Note that the conference ends at around 5:30 pm on the Friday. As the Saturday is the 14 July - Bastille Day - you may wish to consider staying in Paris on the Saturday night in order to see the celebrations, including the evening fireworks over the Eiffel Tower.
Charles de Gaulle airport is not always straightforward to navigate for first time travellers to Paris. If in doubt do not hesitate to ask for help from any of the information desks which are located at the arrivals areas at each of the terminals (as well as a small information stand at Roissypole/T3).
As you will almost certainly pass through Roissypole - either to take the RER train into Paris or catch a bus to Caen - you may find the layout shown below useful: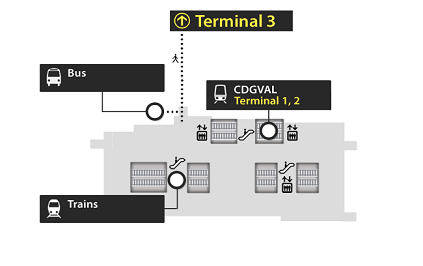 TRAIN:
The train times may be checked via the SNCF website where you may also buy your tickets in advance if you wish:
On the afternoon/evening of Sunday 8 July, there should be trains leaving Paris

(Gare Saint-Lazare)

that serve Caen at 11h43, 14h43, 16h10, 17h43, 19h09, 19h59 and 20h43.
On the Friday evening (13 July) there should be trains leaving Caen for Paris (Gare Saint-Lazare) at around 17h54, 18h54 and 20h28. On the Saturday morning/early afternoon there should be trains at around 06h07 07h42, 08h54, 10h07, 11h54, 13h07, 14h54. Given that the weekend of the 14 July is the start of the summer vacation period, trains on the afternoon and evening of 13 July will be very heavily booked and we suggest that unless necessary, participants consider travelling back to Paris on the Saturday.

To reach "Gare Saint-Lazare" (

Paris)

station from Charles de Gaulle (CDG) airport there are a number of possibilities using public transport:
RER train to Paris - from your arrival terminal at CDG, follow the signs "Paris by Train" (RER B). In the case of arrival at terminal 1, you need to take the free automated shuttle service (CDGVAL) to the stop Roissypole/Terminal 3 (T3). At the Roissypole or CDG2 train stations you may buy your ticket for Paris (either from the ticket counter or one of the vending machines - €10.30). All trains running in the direction of Paris stop at all the RER B stations within central Paris (note that the CDG2 station is the northern terminus of the RER B line). To reach Gare Saint Lazare you should alight at Gare du Nord and transfer to the RER E line and take a train in the direction "Haussman Saint Lazare" (which is the terminus). On the RER E line, please note for your return journey that Gare du Nord is indicated as the "Magenta" station and is the first stop. When you alight at "Haussman Saint Lazare" follow the signs for Gare Saint Lazare main line trains. The entire journey should take around 45 minutes. A map of the RER system may be found at:
https://parismap360.com/paris-train-map#.WqvyZOjOVaQ
Bus to Paris: Follow the signs at your arrival terminal to the Roissybus stop. You may purchase your ticket from the vending machine or the bus driver (€12.00). The bus is direct to Paris and stops

(11, rue Scribe)

next to the Opera Garnier and takes around 60 minutes, with the exact travel time depending on the time of day and traffic. From there it is a short 5-10 minute walk to Gare Saint Lazare as indicated in the map you may download:
RoissyBus_rue_Scribe_Gare_St_Lazare_4.pdf

Taxis to Paris - Taxis are also available at both airports with the fare being €50 from CDG and €35 from ORY (a surcharge may apply at night and on Sundays). If you do decide to take a taxi, please be sure to take it from the offical taxi stands (as indicated by the signs at your arrival terminal). Do not respond to any of the offers of a "taxi" proposed to you as you exit the arrivals hall.
For those arriving at Orly (ORY) airport you should take the Orlyval light rail line which connects to the RER B at the Antony station. From there you take an RER train into Paris and change at Gare du Nord where you transfer to the RER E line, as indicated above for travel from CDG. Tickets may once again be purchased from the vending machines or ticket counter (€9.30). The journey time will be around 45 minutes.
At Gare Saint Lazare you may purchase your ticket for Caen from the ticket office or using one of the SNCF vending machines - a second class ticket costs around €40 one way. As noted above tickets may be purchased in advance via the SNCF website. Please be aware that if you miss your train you will need to change your ticket and may well have to pay a penalty depending on the type of ticket you purchased. Note that trains with a final destination of Cherbourg stop in Caen. Trains with final destinations of Rouen or Le Havre do not go via Caen.
BUS:
Direct bus services (typically 4-5 per day) are now available from CDG airport to Caen. The travel time is, depending on the number of stops made before Caen, typically around 4 1/2 hours (ie., comparable to the time to travel into Paris and take a train to Caen). The buses leave from the bus station at Roissypole/T3 (see plan above) which is served by the CDGVAL automated shuttle that runs between Terminals 1 and 2.
You may check the bus times using the following website:
Please be sure to select as your filter options "Paris airport Charles de Gaulle" and not Paris as your departure point and select the "direct trip" option. If you wish to purchase your ticket in advance follow the links given in the list.
Tickets may also be purchased on the day from the driver if seats are available.
For further information the web sites of the bus companies (Flixbus, OuiBus, Isilines) are:
PRIVATE SHUTTLE:
Private minibus shuttle services are available from Caen to CDG, but are prohibitively expensive unless booked typically for a group of 4 or more. Please contact us if a group of you is interested in such a possibility and we shall inquire as to the availability and price.
CAR HIRE:
Both CDG and ORY airports have representatives of all major hire car companies. Car hire may be a useful option if you are considering tourism before or after the conference. We note that it may be advantageous to rent a car for the length of your stay with return to your airport of arrival/departure as most companies apply very high surcharges for one-way rental to and from the airports.
Please note that if you are driving, the A13 has a number of toll booths - you may pay by cash or credit card as indicated by the signs above each of the booths. Please, however, avoid passing through a booth marked only with a "T" as these require an electronic tag fitted to the vehicle.
ACCOMODATION
Caen has a wide range of hotels with prices starting from around €50/night (single room) which may be easily booked via the usual web based booking sites. As the conference occurs at the beginning of the summer vacation period, we suggest that you book well in advance.
We note that many of the well-known chains with hotels in and near central Caen, such as Accor (Ibis, Mercure, Adagio) and Best Western, offer reduced rates for advanced pre-payed bookings via their own websites, as do other hotels via their own web sites or via web based booking sites.
Most of the hotels in the downtown area of Caen are within walking distance of the conference venue. If you are arriving with luggage (both the trains and buses arrive at the Caen railway station) the easiest option will be to take a taxi, the cost of which should be around €10 (evening and Sunday surcharges apply) to travel to any of the downtown hotels.
If you chose a hotel which is not in the downtown area, please check with the hotel as to the best means to reach them - at present the tramway is under reconstruction and not in service and you will need to use the replacement bus services if you wish to use public transport. If you have luggage and arrive on the Sunday night we recommend taking a taxi.
If you wish to check via Google Maps or similar, your hotel's location with respect to that of the Conference Centre, the address of the latter is: 13 Avenue Albert Sorel, 14000 Caen.